Safe PIC Site Home Page / Aviation News
Point and click on form to find information for the respective section
To go to next section, point and click here.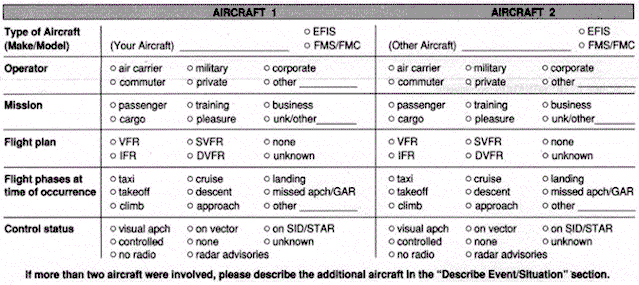 Download Adobe version of NASA form by clicking here.

HELP: Here the hyperlinks will lead to a search engine to bring up all information about the aircraft involved. All is needed is the N number of the aircraft
Contact Information
Electronic mail

General Information: safepic@safepic.com

Disclaimer: No warranty or claims are made or implied regarding the accuracy or worthiness of the information databases included or linked to via the PIC site. We are doing the best we can to ensure accurate
information, however, the actual data may not be accurate, up-to-date, or it may be faulty to begin with
(If you find formatting problems, please let us know, but if you find inaccuracies please contact the source).
Use these sources at your own risk. The FAA is the primary authority as to the "real" information.

Send mail to safepic@safepic.com with questions or comments about this web site.
Copyright © 2005 Proactive Information Corporation
Last modified: December 20, 2017